---
SKUs: All Velocity Gateways

Summary: Using the Wake-on-LAN (WoL) Velocity Macro —
This guide provides helpful tips for using the WoL Velocity feature.
---
Introduction
Wake-on-LAN is useful for waking up devices that are in a sleep or low power state. For instance, waking up a conference room computer when the room is turned on or a TV that goes into low power mode after being turned off. Depending on your equipment manufacturer, WoL can also power on some devices which are fully off. However, waking from sleep mode is generally the most reliable.
Wake-on-LAN uses "Magic Packets" broadcast over a network. These packets must contain the MAC address for the device to wake.
One way to recognize that a WoL command might be needed is if you notice the device card for the projector shows disconnected after sending the Power Off command. It might take a minute or two for the display to show as disconnected. If you notice this behavior, we would recommend you contact the display manufacturer and confirm whether or not a WoL command is needed. (There might also be an eco setting that needs to be disabled in order to keep the LAN port active.)
The Velocity Macro

Use XX-XX-XX-XX-XX-XX format for your Velocity macro MAC Address as shown: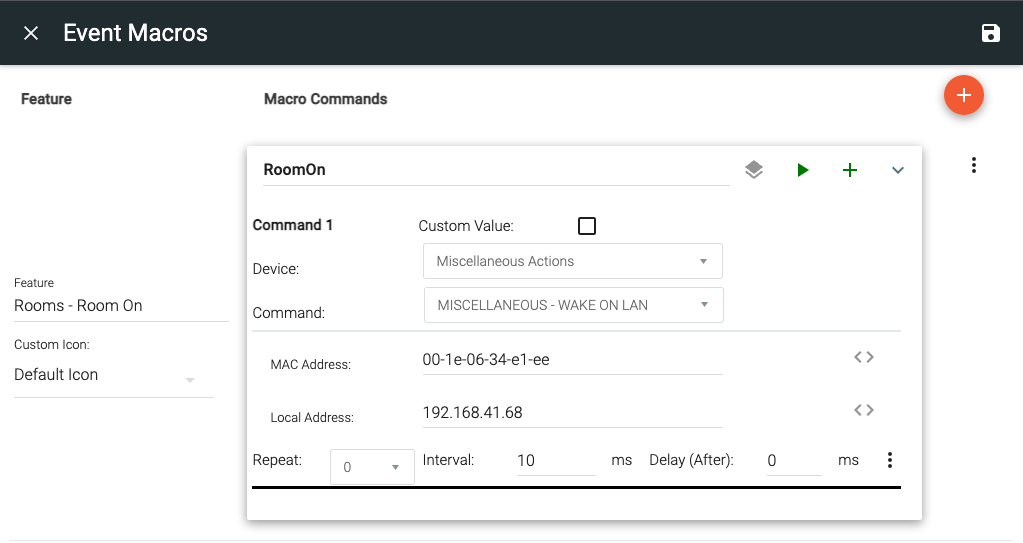 This macro will turn on a computer with the MAC address of 00:1E:06:34:E1:EE when the room is turned on.
Note: If you have both ETH ports on the Velocity Gateway connected, you will need to use the Local Address field. If the IP address of your Velocity Gateway ETH port 1 is 192.168.41.68, and this is where the display is connected, you will put this IP address in the Local Address field as seen in the example above.
Article ID: KB01642