SKUs: AT-VGW-250
Scenario:
A display can be "Pinged" from a computer but is not responding to IP control commands from a control system such as Velocity.
Explanation:
In many cases, Commercial or Residential Displays may have a LAN port and IP Configuration settings in order to use Smart TV apps and features.  This does not, however, guarantee that the Display can be controlled via IP from an external control system such as Velocity.
Similarly, the Display's documentation may advertise the ability to control from a mobile app using a mobile device on the same network as the Display.  This often makes use of proprietary technology and also does not guarantee the ability to control the Display from a control system using IP.
In these cases, it may be possible to ping the display at its known IP address, but not to control the device using this IP address.
If your display Manual/External Control document specifies the display can be controlled via IP at a specific port number, then a good way to confirm whether the display can be successfully controlled via IP is to use a utility such as Hercules (free download available here: 
https://www.hw-group.com/software/hercules-setup-utility
) to attempt to open a connection to the display at that IP and port number using the TCP Client tab: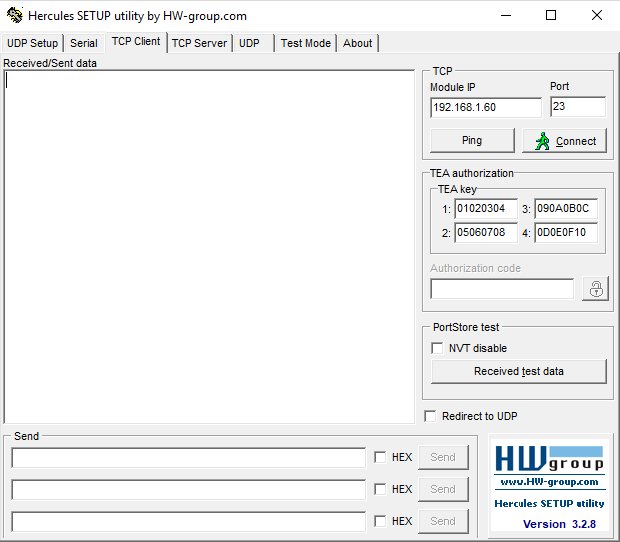 If you are able to successfully "Connect" to the Display at the this IP and Port using the Connect button, then this display will be able to be controlled via IP.  If not, then Velocity or any other 3rd party control system will not be able to control this display via IP.  In these cases, controlling the display via RS232 or IR would be alternate options to investigate.
Article ID: KB01601