SKU: AT-UHD-CLSO-824
Configuring Route Recall on the AT-UHD-CLSO-824 for use with the IR remote can be accomplished in two ways, either via IP or with the Front Panel.
IP
Determine which inputs you want routed to the outputs when selecting the Route Recall buttons (1-4) on the remote
Access the WebGUI and navigate to the Settings tab
Under Route Settings, select the inputs that you want to route to particular outputs (eg: Input 2 for Output 1 and Output 2)

Open a telnet session
Use this command:

SaveY

Where Y is a variable for presets 1 to 4. For example, for Route Recall button 1 on the remote, send

Save1

via telnet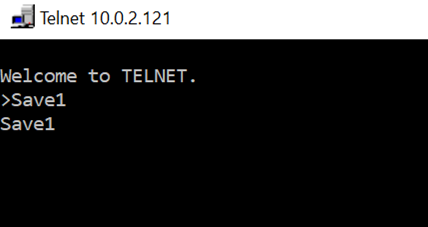 Repeat steps 3-5 to route other inputs to outputs and to save further Route Presets.
Point the handheld remote at the front of the AT-UHD-CLSO-824 and press "Route Recall" buttons 1-4 to recall these routing presets. 
Front Panel
Determine which inputs you want routed to the outputs when selecting the Route Recall buttons (1-4) on the remote
Press button 1 to select Output 1, and press another numbered button to select an Input that you want to route to output 1 (for example, press 1 then 2 to route Input 2 to Output 1
Repeat step 2 for Output 2
Press the MENU button to enter the On Screen Display Menu

Press the ENTER button again to enter the Route Setting Menu
 
Press the Down Arrow Button (3) times, until you see Save memory

Press the ENTER button
Press another numbered button 1-4 to select a Routing preset, for example 2 here:

Press the ENTER button
Press the MENU button (3) times
Now the Route Recall buttons on the IR remote will recall presets #1-4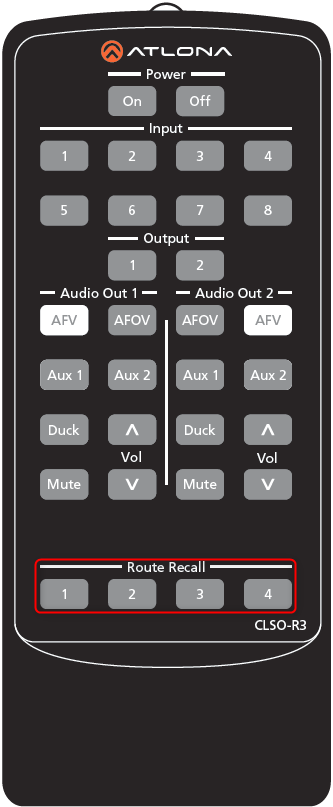 Article ID: KB01555