SKU: AT-UHD-SW-510W
Subject: Using Chrome browser's "Cast..." feature on Windows devices
Explanation:
Google Chrome casting uses VP8/VP9 compression, which will be supported in a future release. The AT-UHD-SW-510W currently supports casting using the most common standard H.264 compression.
If the AT-UHD-SW-510W is on firmware version 1.1.0 when casting via Google Chrome's "Cast..." feature (shown here):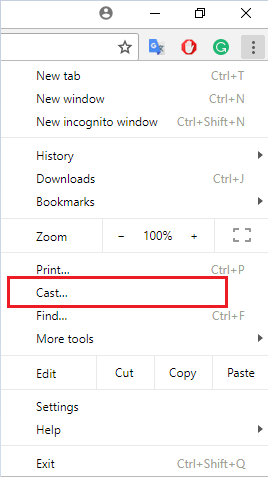 You may see the following message on the AT-UHD-SW-510W On Screen Display for 5 seconds:
"Error code 104 (media source not supported)"
If you are on a firmware version other than 1.1.0, you may not see the error message, but as VP8/VP9 compression is still currently unsupported, Google Chrome casting will not pass.
Please refer to the manual (link below) for how to cast using Windows Miracast, Android Google Cast or Apple iOS AirPlay.
Please find the latest updated AT-UHD-SW-510W user's manual here.
Please find the latest firmware for the AT-UHD-SW-510W here.
Article ID: KB01460