SKU: AT-UHD-SW-52ED, AT-UHD-SW-5000ED
Subject: How to set up display control on a UHD-SW-52ED or AT-UHD-SW-5000ED switch
Steps:
The display control programming on a UHD-SW switch is done through the web interface. For an article on how to access the web interface, please see here.
After accessing the web interface of an AT-UHD-SW switch, please locate the "Control" tab:
You will then first see a section for "Button Control Selection": This is where you select if you want the power button of the UHD-SW switch to act as power control for the switch, or to trigger RS232 or IP commands.
The Volume/Mute button can also be changed to control one of the three options:
Audio out: Volume and mute buttons will control volume output of the switcher
RS-232: Volume/Mute buttons will send the commands over HDBaseT using RS-232 to compatible receivers and displays
IP: Volume/Mute buttons will send the commands over Ethernet using either the LAN connection or the HDBaseT connection: 
The "System Settings" Tab allows you to select the desired functions you want the UHD-SW to have/do when controlling your display/projector.
If you want to have your display/projector turned ON/OFF simply by connecting a source to the TX, please select "Enabled" for the Display Auto Power On and Display Auto Power Off.
Please select Control Type as "RS232", "IP" or "CEC" which will allow you to select how the display on/off commands are sent. (Most projectors will work with either RS232 or IP control)
Please note:
For Display Auto On, if using a projector, you may want to choose a variable for Display Warm Up Timer. This is the time that a projector takes to warm up its lamp and thus, select a time of say 10 seconds will block the user from being able to send the Display Off command for 10 seconds while the projector is in the boot up/warm up process (we don't want to turn if off before it properly warms up as this can cause damage to the lamp).
For Display Auto Off to work, you need to select a variable for the "Auto Power Off Timer". After a source is removed, the timer will start and after the select amount of time elapses, the switch will turn itself off (go to Stand-by) and send the off command do your display/projector. If you are using a projector, you may also want to enter a time for the Lamp Cool Down Timer. This is the time a projector takes to cool down its lamp before turning off. Setting a time of 40 seconds, for example, will block the UHD-SW switch from being able to send an ON command (after the initial OFF command is sent) for 40 seconds. This way we allow the projector to fully shut down without sending it an ON command halfway through its shut down process.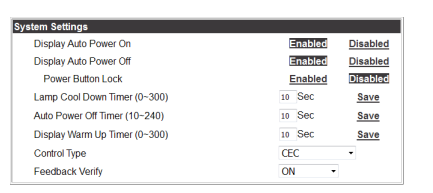 Additional info about the various settings is outlined below:
Display Auto Power On - When enabled, the unit will send a programmed command to the display to turn on after detecting an A/V signal
Display Auto Power Off - When enabled, the unit will send a command to the display to turn off after not detecting an A/V signal
Lamp Cool Down Timer (10-300) - Used with a projector whose lamp cannot be turned on for up to 5 minutes after being shut off. Match settings with lamp delay on a projector
Auto Power off timer (10-240) - Sets the period of time between the loss of A/V signal and when the "Display Off" command is sent Note: LED will blink red for the auto power off time period then go solid Note: All functionality remains, only the HDBaseT output is turned off
Display Warm Up Timer (10-300) - Sets the period of time after the display is turned on, that the power button will be locked Note: LED will blink green for the warm-up period and then stay solid Note: When timers are set to 0 seconds, they will disable the timers' functions
Control Type - Select whether the display on/off commands are sent using RS-232, TCP/IP, or CEC
Feedback Verify On: If receiving no feedback, the product will send the command up to 4 times Off: The command will only be sent once, whether feedback is received or not
If you are using IP control, in the "TCP/IP Settings of Controlled Device" tab you can enter your network information:

Lastly, enter your display/projectors RS232/IP commands in the "RS-232/IP Commands" section: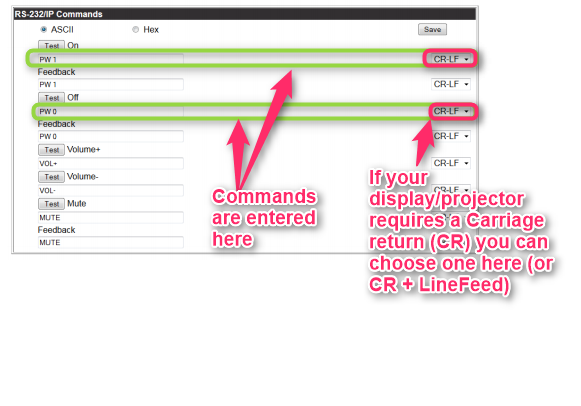 Please note, Feedback is what the display/projector sends out after a command is sent to it. This can be used for testing to verify the display has made the desired change (i.e. Turned off after an OFF command was sent) but this function does not need to be used. To use this feature, you must enable "feedback verify" under "System Settings":

Article ID: KB01447