The AT-HDVS-200-TX and AT-HDVS-200-RX ships with DHCP enabled by default. This means connecting the unit to a DHCP enabled router should issue the Atlona unit a unique IP address which we can use for accessing the units web interface when we type this IP into our favorite internet browser.
To troubleshoot communication issues with DHCP enabled:
Firstly connect your LAN cable to the LAN port of the AT-HDVS-200-TX: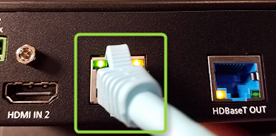 PLEASE NOTE: Do not connect LAN to both the TX and RX units at the same time, only connect LAN to one component (TX or RX) and the other connected device will get an IP address via DHCP. Connecting LAN to both ends of the system can cause your network to fail.
You should see both the green and amber LED lights illuminate when an Ethernet cable with LAN access is connected to the LAN port.
Next, please confirm that your router is issuing DHCP addresses to connected devices such as your computer:
Connect your Ethernet cable between the router and the LAN port on your computer.
Next, access the Network and Sharing Center in your PC's Control Panel. 

Here, please click on "View your basic network information and set up connections"
Please confirm that your PC is seeing the "Local Area Connection" as a connection type:

Please note your PC may see wireless connections as well but we will want to disable that for this test. To temporarily disable wireless, please click on your wireless connections in the Network and Sharing Center

Next, please click disable:

Once wireless has been disabled, please access your IPV4 properties: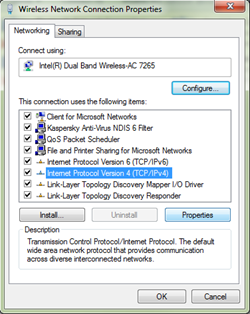 Make sure that you select "Obtain an IP address automatically" :

Next, open Command Prompt and run an IPConfig. You should see your Ethernet adapter Local Area Connection settings and should see an IP address under the IPv4 section:

If you see an IP address issues to your computer through the LAN connection, its safe to assume your router is issuing DHCP addresses and the Atlona should be getting one.  If you are still unable to get the AT-HDVS-200-TX on your network, please try the following:
Reload firmware on the AT-HDVS-200-TX unit using the latest files found here.
Note reloading firmware will default the unit back into DHCP ON (factory setting)
Remove your LAN cable, power cycle the Atlona unit and try connecting LAN again.
If you are still unable to get IP info, please contact Atlona support for more assistance.
To enable, disabled Wi-Fi:
Please access your Network and Sharing center followed by the "Manage wireless networks" tab: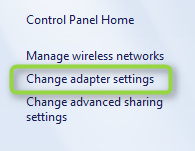 After, locate your disabled Wi-Fi:

Right-click on the connection and press enable: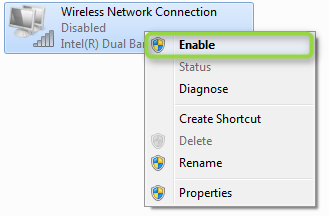 Article ID: KB01039