---
Summary: How to create a DB9 to captive screw cable (for RS232 pass-through/control)—This article shows how to modify a standard DB9 cable for use with Atlona products.

---
Many RS232 enabled devices from Atlona feature a captive screw RS232 connection on them for serial communication/control. These devices use pins 2 (RX), 3 (TX) and 5 (GND) for RS232 data transmission.
To utilize this connection, you will need a cable with one end having a standard DB9 connector and the other end being three bare wires for the Tx, Rx and Ground pins.
If you have an existing DB9 to DB9 cable, please cut one of the DB9 ends off which should reveal 9 wires.
If you do not have a pre-made DB9 cable, you can purchase DB9 connectors and solder your own cable.
Please use a volt meter with a continuity test to determine which wires correspond to the #2 (Rx), #3 (Tx) and #5 (Ground) pins.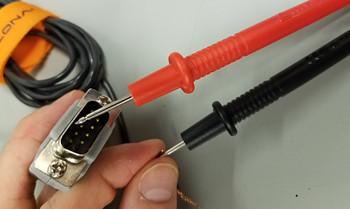 Atlona recommends trimming down any unused wires to avoid confusion and crosstalk
Standard DB9 plugs have pins arranged in the following way: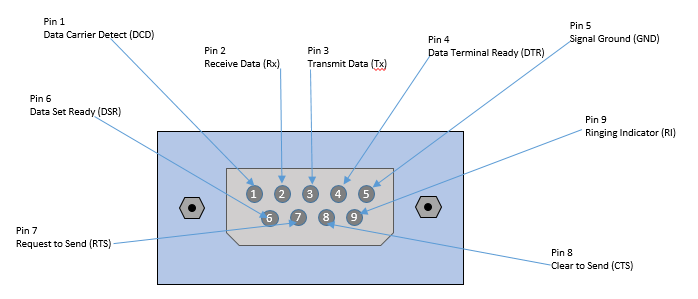 Once you have located your TX, RX, and GND pins/wires, you are ready to attach the captive screw connector to your DB9 cables three bare wires:
To open the captive screw terminals, turn the screws atop the connector counter-clockwise.
Next, push each wire into the corresponding port and once connected, twist the screws atop the connector clockwise to lock them down.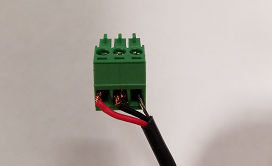 Please take note not to cross any wires as this can cause communication issues later on.
After completing the setup of the captive screw connector, you are ready to connect it to your Atlona device's RS232 port for serial control:

Please note most Atlona devices have the following RS232 settings:
115200 baud rate, Data bit: 8, Parity: None, Stop Bits: 1 and Flow Control: None
Article ID: KB01069