SKU: AT-UHD-PRO3-44M, AT-UHD-PRO3-66M, AT-UHD-PRO3-88M, AT-UHD-PRO3-1616M
Scenario: RS232 communication is not occurring. Front panel of the matrix works to select inputs/outputs as does the IR remote.
Troubleshooting:

The TX pin of your cable should connect to the RX pin on the Atlona. RX pin from your cable should go to TX on the Atlona. Ground goes to ground.
Next, connect your RS232 to serial cable and establish a connection with your PC
Example: If using HTerm, your connection will look like so:

*Please note, port #'s may change*
You should see the following message in the bottom right corner of the program:

Once properly connected, try sending a command to the matrix to turn it ON/OFF:

If the command is properly sent and received you should see the following: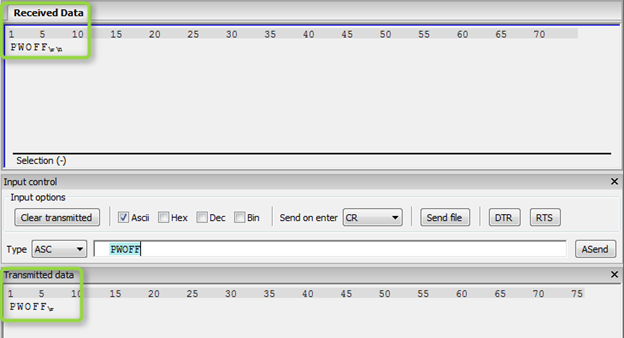 If you successfully toggle power on the switch, you are properly connected via RS232
If you do not have success, check your serial connection with the matrix. It's possible the TX and RX pins need to be swapped or a null modem needs to be installed. Please try flipping the TX and RX pins or installing null modem adapter. If this does not help, try another USB to serial cable and another USB port on your PC (check port settings via Device Manager as they may have changed).
Another method to test communication is to simply toggle power on the switch whilst connected via RS232 and monitor the feedback received via the serial program:

If you see feedback whilst toggling power but not when sending commands to the unit, this implies that the RX and GND pins are in incorrect positions. Please swap them and see if commands pass.
If you still have issues in getting RS232 to work after following the steps above, please attempt to reload firmware on your switch and perform a factory reset
If you are continuing to have issues after the steps above have been tried, please contact Atlona Technical Support for further assistance.
Article ID: KB01123