SKUs: AT-UHD-PRO3-44M, AT-UHD-PRO3-66M, AT-UHD-PRO3-88M, AT-UHD-PRO3-1616M
Scenario:
When using the front panel of an AT-UHD-PRO3 matrix to make "switch commands", you are prompted to press enter to confirm my input and output selections. If you use the supplied remote, you are also prompted to press enter but there is no enter button on the IR remote that comes with the matrix (AT-MRC). 
Solution: 
When sending IR signals (from the AT-MRC remote) to route input/outputs to the front panel of the AT-UHD-PRO3 matrix, you are not required to use the enter button. Each AT-UHD-PRO3 ships with the AT-MRC remote, this remote will have a total of 16 discrete input and 16 discreet output buttons.
To make an input/output switch command via IR:
Select your desired input by pressing the corresponding button on the remote (under Input section). The matrix front display will show this after selecting an input: (Input 1 used in this example)
After choosing your desired input, simply press the button for your desired output. The matrix will quickly flash the output selection on its screen:

(Output 2 used in this example)
After the input and output selections have been made, the matrix will briefly confirm the input/output route on its screen:                                    
The matrix will automatically incorporate an enter command for you.
If using a universal remote, please use the supplied Atlona remote to learn IR codes into the universal remote, or see this article for a full list of discreet IR commands for the AT-UHD-PRO3 family.
Please note, while your remote may show up to 16 inputs and 16 outputs, the number of available inputs/outputs is based on the specific model of AT-UHD-PRO3 you are using. As an example, if using an AT-UHD-PRO3-88M and its remote you are only able to use the buttons for the first 8 inputs and buttons for 10 outputs: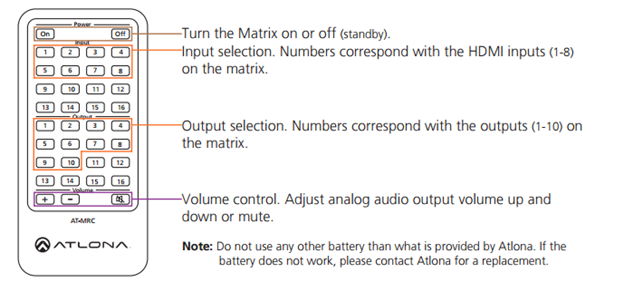 If you are looking to select inputs on the Atlona matrix by sending IR commands from an Atlona receiver located at an output zone (paired with an AT-IR-CS-RX), please see this article.
Article ID: KB01080