SKU: AT-UHD-HDVS-300-KIT
Scenario: How to find HDVS-300 IP information
Solution: The easiest way to find the IP address of your AT-UHD-HDVS-300-KIT is to utilize the AMS software which will perform a network scan and locate any HDVS-300 (and other Atlona devices) on your network. 
Please note the HDVS-300-KIT has DHCP enabled by default. Connecting this to a DHCP enabled router will issue the 300 unit an IP address without any further action. If you want to use static IP, you can set the HDVS-300 to static using either the web interface (after establishing a connection via DHCP) or a front panel button command: 
Front panel method: 
Press and hold the INPUT button for 15 seconds. This sets the IP to: 
Address: 192.168.1.254
Subnet: 255.255.0.0
Gateway: 192.168.1.1
After accessing the web interface with the default IP address, you can change it to the desired settings. See below: 
Web-Interface: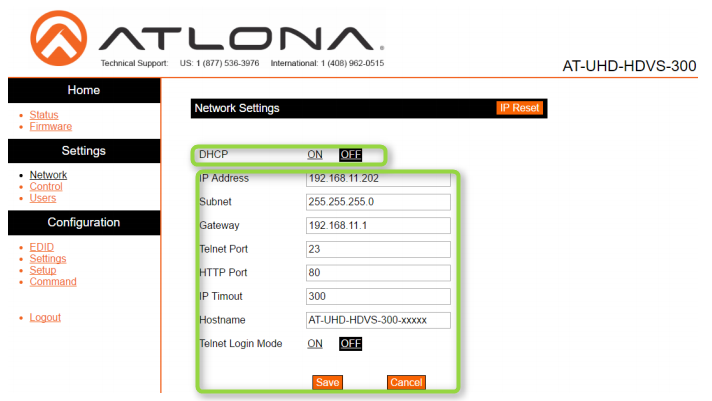 The Atlona AMS Software also allows you to make changes to IP information. Below is a screenshot. 
AT-SW-AMS: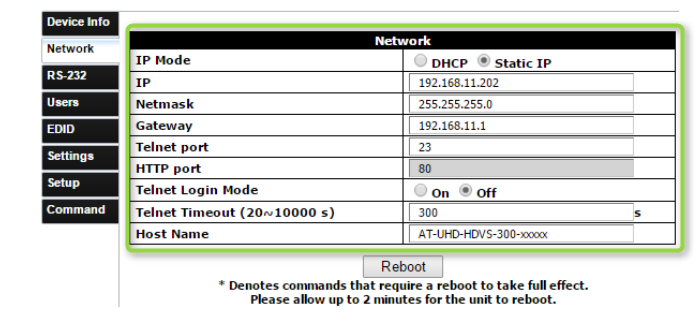 Article ID: KB01043