The AT-HDVS-150-RX can be used with either displays or projectors. There are a few settings on the AT-HDVS-150-RX that can be used to optimize its performance when used with a projector.
To optimize video quality on the AT-HDVS-150-RX:
Select your desired input resolution. The AT-HDVS-150-RX ships with this setting defaulted to 1280x800. This is the recommended setting from Atlona as it ensures the widest range of sources can connect to the HDVS system. This setting works by recommending an optimal input resolution for sources that are connected to it. While you are choosing this setting via the AT-HDVS-150-RX, the corresponding TXs that are paired to the 150-RX will be representing this information to the sources connected to them. Think of this as the EDID settings of your system. The sources will do their best to output an image that matches the HDVS's input resolution, however, if they are unable to pass an image at this resolution, they will pick the next common resolution they think the Atlona will support.
Please confirm what your projector's native resolution is. The HDVS system ships with this set to 1920x1080 to ensure picture can be displayed on most modern displays/projectors. To find your displays preferred (native) resolution, please check the products specifications or referring to its user's manual.

As an example, let's say your projector has a native resolution of 1600x1200 (UXGA): To optimize video on the HDVS system, we will set the output resolution of the AT-HDVS-150-RX to 1600x1200 (thus matching the projector's native resolution):

Please also note your projector's aspect ratio and choose the appropriate setting on the AT-HDVS-150-RX.

Atlona recommends setting the output of the AT-HDVS-150-RX to the native resolution of your projector however you can also use the scaling function to change the aspect to your needs. Most HDTV's and a wide range of projectors operate at 16:9. See this article for more info on aspect ratios.

Please note, while the settings mention "TV" in the title, these aspect ratios can be used for projectors as well as displays.
To optimize RS232 control over projector/displays:
If you have programmed the AT-HDVS-150-RX to turn your display on/off automatically based on the "Auto Display Control" feature, for the auto-off function to work correctly, you will need to also enable the "Auto Off(sec)" setting in the HDVS Software. This setting controls how long the Atlona HDVS system stays ON for, after a source has been removed, before the off command is sent to your display. Each of the variables offered in the drop down represents time in seconds that the Atlona system will stay in standby before initializing the shutdown process of sending an off command to your TV and followed by the HDVS system turning itself off.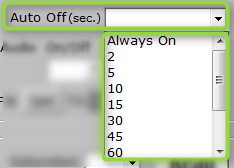 (Auto-off settings as found in version 2.2.8 of the HDVS software)
Atlona recommends setting "AutoOff(sec)" for a minimum of 30 seconds. This gives users of the HDVS system enough time to connect their sources to the HDVS system while also being able to shut down whenever the system is no longer in use (thus saving your projector's lamp life).
If specifically using a projector, many projectors have a cool down period for their lamps. This is typically where you press the OFF button on a projector and it then begins its shutdown/cool down procedure before it turns off sometime later. If using Auto Display Off control on a HDVS-150 system with a projector, Atlona recommends setting up the "ProjSW Mode(sec)" in the HDVS-150-RX's "Projector" settings tab. You may want to measure the time it takes for your specific projector to fully shut down before selecting the appropriate setting.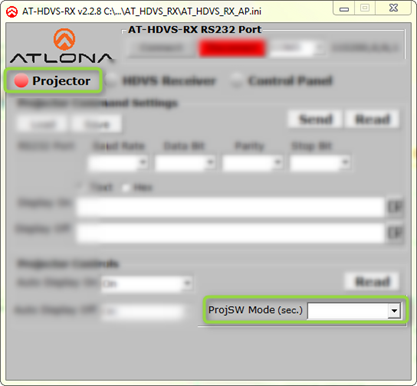 Please choose a value that most closely matches the number of seconds it takes for your projector to actually shut off after an OFF command is sent to it. Atlona has found that most projectors take about 40 seconds to complete the lamp cool down but for optimal performance, please time your specific projector.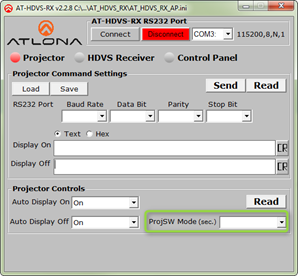 Since many projectors have a specific cool down period before they turn off. Please set this value to the number of seconds it takes for your projector to actually shut off after an OFF command is sent (such as 40 seconds).
In addition, if you are looking to utilize the Auto Display Off function, you will need to set a "Auto Off (sec.)
For information on how to set up display/projector RS232 control on an HDVS-150 System, please see this article.
Article ID: KB01031