SKUs: AT-VGW-250, AT-VGW-HW-3, AT-VGW-HW-10, AT-VGW-HW-20, AT-VGW-SW, AT-VTPG-1000VL

Summary: How to update Ubuntu to be on the latest supported OS for your system.
Do I need to update/upgrade Ubuntu?
The primary purpose of the updates/upgrade is to have the most up-to-date security on your network. This may be optional if you are on a stand-alone network with only AV devices. This update would make more sense if you are on a more extensive customer network and the IT administrator wants to keep everything secure.
Pre-requisite
BACKUP your database and download it

If you are using a VM, take a SNAPSHOT before updating.

You should already have Velocity set up and logged in.

You must be an administrator of the system.

Your Velocity system is connected to the internet (green globe top left corner).

Since every SKU is different, not all can run the latest updates. Depending on what you are using, you may see something different.

Check with your IT admin if it is necessary for these security updates.

Please make sure you are on the latest firmware we offer on the website.

Note: We will be using 2.5.2 for this article. Button locations may be different if you are on another firmware.
Navigating to the Gateway setting
| | |
| --- | --- |
| Navigate to your Gateway settings. | |
Gateway Settings
This is where you will find your Ubuntu update section.
Note: Every part number in Velocity will not be able to update or upgrade to the same OS. Some of our hardware units can update security patches but not upgrade to a newer OS.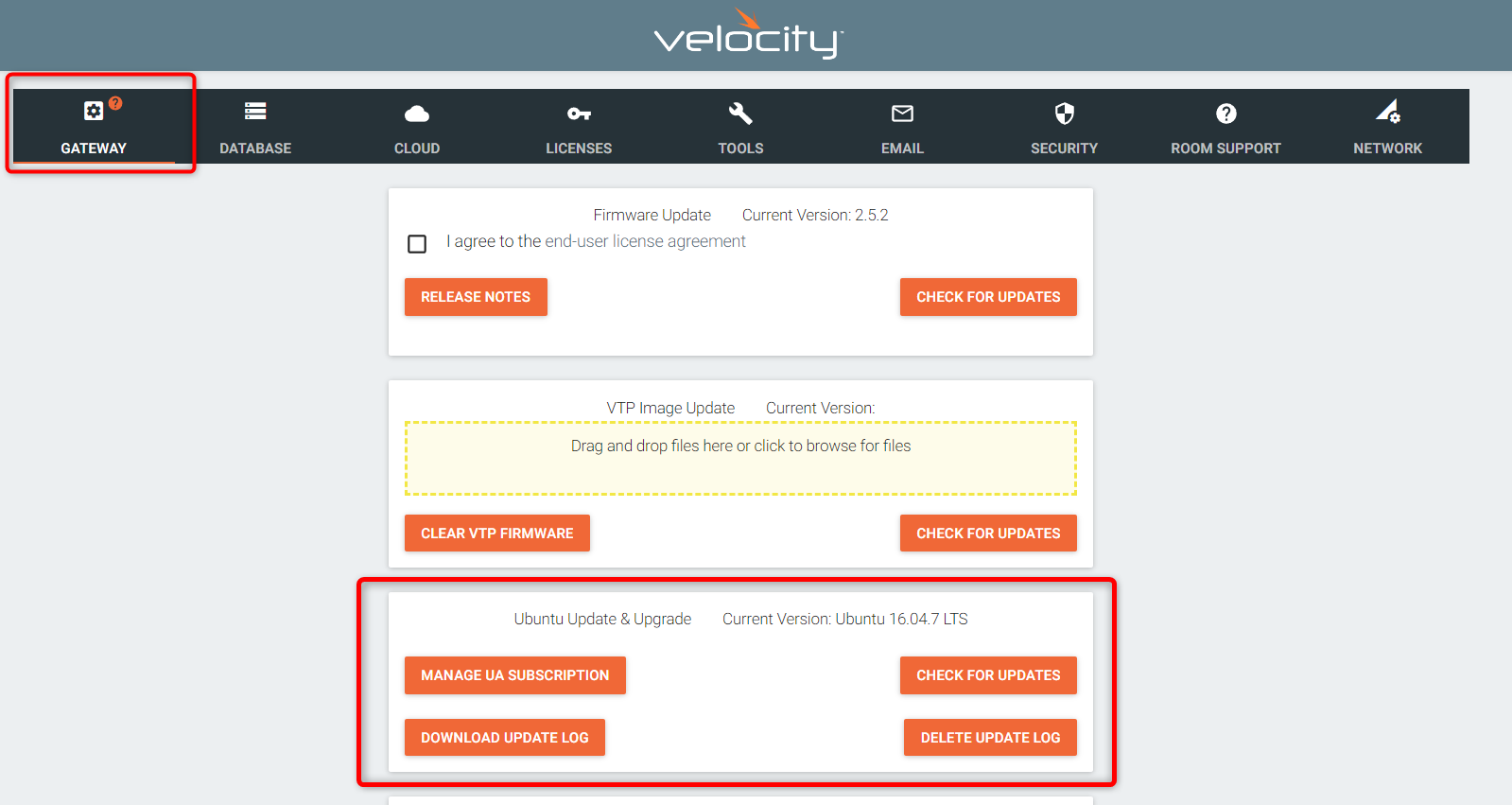 Differences
Since every SKU is different, not all can run the latest updates. Depending on what you are using, you may see something different. Below are some examples.
VTPG

VGW-HW-X or VGW-250

VGW-SW

How to start your updates
No matter what system you are on or how your update section looks, it will be done in the same order.
Important: While Velocity is doing updates or upgrades, do not shut down or restart the server. Velocity will reboot itself. Times may vary but can take 5-20 minutes, depending on your device and the internet.
Always check for UPDATES first. Velocity will search to see if your version is the most up-to-date and let you know with a pop-up window.

If you have no updates available and no UPGRADE button, you successfully updated Ubuntu for your system.
If your updates have finished and/or you are currently on the latest, and you have the UPGRADE button go to step 2 after Velocity is finished rebooting.

The UPGRADE button is always second. This will take longer than the updates but will act the same on the Velocity UI. Wait till Velocity has rebooted for this to be done. You can skip this step if you do not have an UPGRADE button.
Possible issues
If you are getting errors when looking for updates or upgrades, ensure your Velocity system can see the internet. Check if you have a green globe on the top left corner of your UI.
Are you getting errors in updating your database?

You can navigate to your Database tab in your Velocity settings.
Scroll to the bottom to find the Database upgrade
There should be an Upgrade Database button. Let Velocity restart and then continue with your updates/upgrade of ubuntu.
Article ID: KB01904