When configuring routes for an AT-OMNI-238 with Dante Controller, you may see that the AT-OMNI-238 is Red, and mousing over the device displays the warning "Device has IP Problems":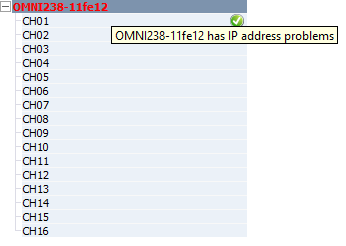 If your AV subnet falls within the 172.31.0.0/16 subnet, please See Audinate Configuring Dante Controller and Troubleshooting Dante IP Address Configuration for further information on this matter.

Otherwise, to address these IP problems:
Open the Dante Controller - Device View window by clicking Device > Device View (or press Ctrl + D on PC or Cmd + D on Mac).
In the (Select a Dante interface) dropdown menu, select the AT-OMNI-238:
Dante Controller will display a list of possible causes for the problem, and details specifying that the AT-OMNI-238 primary device address is in a different subnet from Dante Controller's primary interface.


To remedy this, return to the Dante Controller - Network View window and click the "Choose a Dante interface" icon.
Set the Primary Interface to the subnet of the AT-OMNI-238.
The problem has been resolved and Dante Controller can now make routes in the AT-OMNI-238.