SKU: All TCP/IP Controllable Devices
Subject:  How to turn your computer into a DHCP server to give your Atlona unit an IP address
Steps:  
Note: This guide is for Windows Operating Systems only
Atlona Inc. provides this 3rd party firmware "as is" and "as available" for your use, without warranty of any kind, either express or implied, including all implied warranties of merchantability, and fitness for a particular purpose.You expressly agree that your use of, or inability to use the firmware is at your sole risk. In no case shall Atlona Inc. be liable for any direct, indirect, punitive, special, oOr consequential damages arising from your use of any of the firmware, including but not limited to, any loss or damage of any kind incurred as a result of your misuse, transmitted, etc.
This guide is intended to show you how to provide an IP address to an Atlona unit whose NIC (network interface card) is set to accept IP addresses automatically using a DHCP server. Before you begin this guide please connect your computer to the Atlona's LAN port with at least a CAT5e patch cable. You will also need to configure your LAN settings and assign your PC a static IP address. A guide for that can be found here: https://atlona.zendesk.com/knowledge/articles/115000966093/en-us?brand_id=1553167
Download the DHCP server software here: http://www.dhcpserver.de/cms/release_notes/2-5-2/ or via box file here: https://atlonainc.box.com/s/kw7f4ansst18uoavmc0iid1hgugtv97n
Unzip the folder to somewhere on your computer like your downloads folder or your desktop.
Your folder should look like this:
Please click the dhcpwiz button to start the program: 
Press next at the welcome screen.
Click on the LAN network that you want to start your DHCP pool with. I'm showing you the network where my PC has a static IP of 192.168.1.100. Press next:
Configure this screen only if you want to give your hosts the IP of a DNS server or set up file transfers. For our purposes, you don't need to do this: 
On this next screen you will create your DHCP pool. This is a predefined group of IP addresses that your system will assign to hosts connected to it. Because my PC is set to 192.168.1.100, I have set this pool to start at
192.168.1.101. This is because I don't want another host to have the same
IP address as my computer. This creates a DHCP conflict: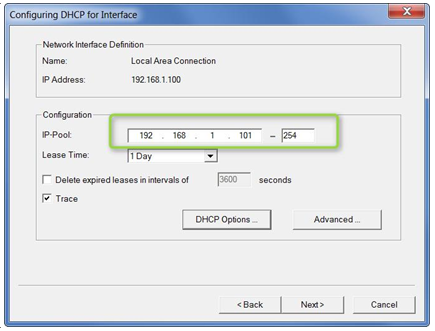 Now you will create you INI file, which is the DHCP file that the program runs to create the server. It includes your configurations. If you have used this program before then select overwrite existing file, if not then select write existing file after a destination has been selected (you can use default). Press next:                                            
After you write the INI file, you will see the following screen. You don't want to install this as a service because that increases the chance that you will leave the program running unintentionally. To run the software as a one-time application, mark the check box for Run DHCP server You will also need to add the software as an exception to Windows Firewall since the firewall service can sometimes block certain server applications. Select Admin, then Configure under "Firewall Exceptions", then Exit. Then Press Finish on the "DHCP configuration completed" screen: 
At the next screen select Continue as tray app. This will give you an icon in your system tray and will notify you when an IP has been assigned as well as the mac address: 
You will see this in the system tray when an IP assignment is successful: 
You will not be able to access the Atlona units web gui by inputting the assigned IP address in the browser of your choice's URL field.
After a static IP has been configured in the device (in the same network as your computer), you will need to disable the DHCP server as to not cause any more conflicts.
To disable the server, you will need to right-click your DHCP server icon in the system tray and select Exit DHCP server:                                                                             
 Article ID: KB01257